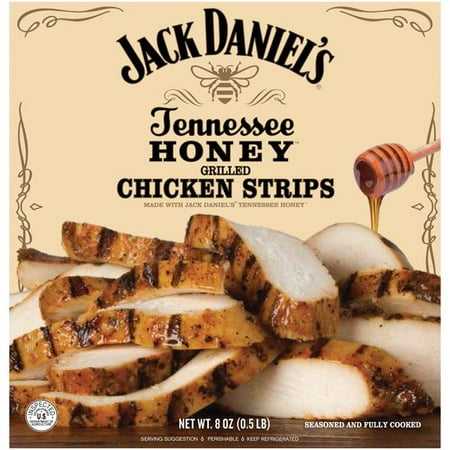 Hey Gang!!! I hope you survived your Fourth of July celebrations and made some wonderful memories. Several days ago I teased on my Instagram that I would posting my review and suggestions for a product I had never used before, Jack Daniels Tennessee Honey Grilled Chicken Strips. One bag is 8oz of pre-cooked, marinated chicken and at my local Wal-Mart is just under $4.00 a bag. This item expires quickly so be sure to make note of that date on the bag when making your purchase and planning your use of it. There are heating instructions on the bag, but you can also eat them cold seeing as they have already been cooked.
I am all for something that saves me money, time and energy when meal planning. I know that the general preference and what is best for us is fresh poultry. Less sodium, no fat, etc., but some days ya just don't have it in you to spend hours prepping and cooking and storing and cleaning up and, and, and...... I so far have only used these gems in cold salads. They taste great, are tender, and super easy to pull apart or cut into cubes or you can always just add them in as is. I think they will also make for a great addition, when I am in a rush, to my
Commercial Inspired Dinner Recipe
of Knorr Past and Broccoli.
All in all I recommend this product for those looking for something handy to keep in the fridge for a hurried meal or even a little pre/post work out bite of protein. What "Quick Fixes" have you come across? Please feel free to share with the group in the comment section. Happy Meal Planning!!!